10 Things You Didn't Know About… The Hunger Games
The last instalment of The Hunger Games hits just over a week's time and it's going to be an epic finale. To celebrate and to relive the magic of the first three instalments we thought we'd have some fun and present 10 things you didn't know about The Hunger Games…
The books have truly gone worldwide…
Suzanne Collins' trilogy has sold over 65 million copies across the world and been translated into a cool 51 languages. Wow.
Katniss's surname is a nod to literary classic…
For the surname of her heroine Collins looked to one of British literature's giants, Thomas Hardy and adapted Bathsheba Everdene in Far From the Madding Crowd to suit her new purposes.
Jennifer Lawrence saw off some serious competition to win the role of Katniss Everdeen…
Though Lawrence was riding the crest of a wave after the success of her first starring role in Winter's Bone she still had to see off some serious competitors to win the role. The likes of Hailee Steinfeld, Abigail Breslin, Emma Roberts, Saoirse Ronan, Chloë Grace Moretz, Emily Browning, Shailene Woodley, and Kaya Scodelario all auditioned for the role, but producers chose Lawrence.
The fight for Peta and Gale was just as intense…
Josh Hutcherson's fight to become Peeta Mellark was also a tough one, he ultimately won out from a field that included two future X-Men stars in Lucas Till and Evan Peters, while Liam Hemsworth's successful fight to become Gale Hawthorne saw him overcome competition from The Duff's Robbie Amell and Disney star David Henrie.
Donald Sutherland worked very hard to be part of the movie...
You'd think an actor of Donald Sutherland's stature wouldn't need to plead with directors and producers for a role and you'd probably be right, but he made an exception for The Hunger Games. He was never offered the role of President Snow, but he came across the script, read it and decided he really wanted to be a part of it. He wrote a letter to director Gary Ross, a letter that touched Ross so much he not only cast Sutherland, but actually expanded the role of President Snow...
Making the star a brunette was a costly business…
Jennifer Lawrence is a natural blonde, but to turn into Katniss she needed to be brunette. When stylists asked if they could experiment on her hair to find the right shade of brown, Lawrence said no, meaning they were forced to turn to wigs. Five were rented, each a different shade of brown, they cost $6,000 each, meaning the wig bill, just for Lawrence, was $30,000. Never mind the rest of the cast...
Jennifer Lawrence gave Josh Hutcherson concussion during filming…
While waiting to film a scene a bit of one-up-manship between Hutcherson and Lawrence got a little out of hand. Lawrence told Hutcherson she could kick all the way above his head, he bet her she couldn't, she tried and ended up kicking him in the side of the head and giving him concussion...
And she went deaf for a week…
During the filming of Catching Fire Lawrence had to dive into some stagnant water and ended up picking up an ear infection, an infection that was then made worse when she caught a water jet in the same ear a few days later.
Her salary went up 20 times between movie one and two…
When she signed on for the role of Katniss Lawrence was offered a not too shabby salary of $500,000 for the movie, but after the first movie grossed over $400 million she got a big pay rise, netting $10 million for sequel Catching Fire, that increased to $15 million for her work on Catching Fire.
Paula Malcolmson has played Jennifer Lawrence's mother before…
Before playing the part of Everdeen senior and junior Lawrence and Malcolmson have acted together before as mother and daughter. The show in question? Cold Case.
The Hunger Games: Mockingjay Part Two is out on November 19th, check hmv.com next week for a full review.
You can check out the previous instalments on DVD here in our online store.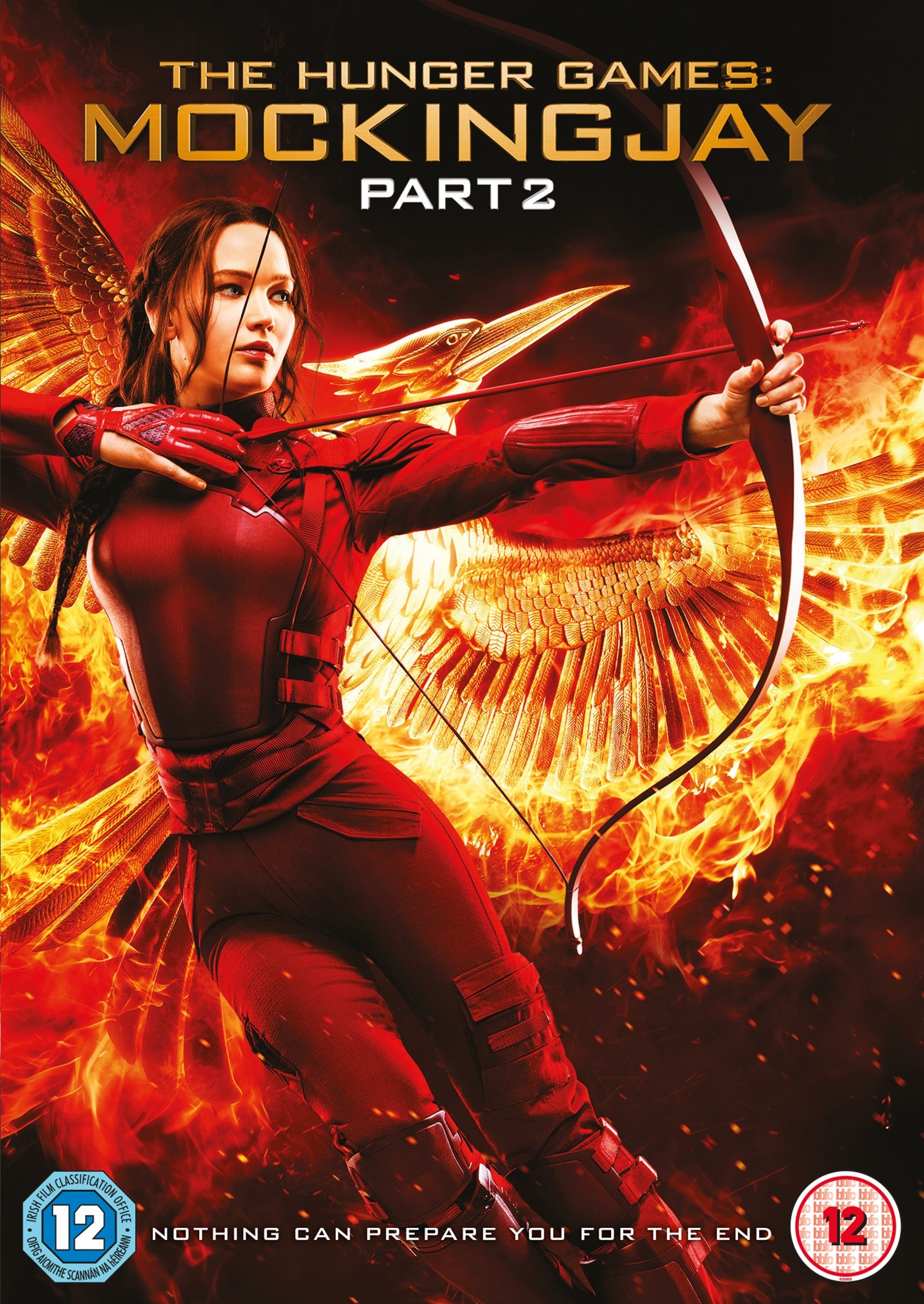 The Hunger Games: Mockingjay - Part 2