"It was a punk movie before anybody knew what punk was..." hmv.com talks to John Waters about Multiple Maniacs
John Waters' career as a filmmaker has seen him produce a string of unique and often controversial films, from Pink Flamingos and Polyester to the musical Hairspray and the black comedy Serial Mom, earning himself a reputation as something of an agent provocateur in the independent film industry.
Always one to push the barriers of good taste, his early films often caused uproar at the time of their release, but many of his films have become cult favourites over the years and recently the folks at Criterion Films added one of his early masterpieces to their esteemed Criterion Collection, a catalogue of some of the most culturally important films ever made.
His 1970 movie Multiple Maniacs is the film in question and follows a travelling freakshow called The Cavalcade of Perversion, led by the tempestuous drag queen Lady Divine. But the show is really a front for a series of robberies and when Lady Divine discovers that her partner Mr. David is cheating on her she becomes enraged and plots to kill him, only to find herself under attack from a fifteen foot lobster.
With the film fully restored and reissued on Blu-ray this week, we sat down with John to discuss the film, the landscape in which it was made and how his films are getting better reviews now than they ever have before...
So Multiple Maniacs has just been reissued as part of the Criterion Collection - how does that work, did they approach you?
"Yes, they did approach me. They have done some of my other films before, I think Pink Flamingos and Polyester were both reissued at one point on laser disc. They're a class act and the irony of Criterion doing a high-end restoration of a film like Multiple Maniacs on Blu-ray is pretty amazing, because I grew up watching Ingmar Bergman's various movies released through Janus Films (Criterion's parent company).
"But I think Criterion completely understood that irony, because when they restored the film and added the roll credits of the people who did the restoration, they painstakingly imitated the bad quality of the original credits! So I knew they got it as soon as they did that."
What was your reaction when they approached you the first time? You're in pretty illustrious company there with guys like Hitchcock, Fellini, Kurosawa and all these legendary directors...
"Yeah, I know. Well as I said I'd worked with them before and I knew that there wasn't a better class of company to be involved with, and I'd been trying to get Multiple Maniacs re-released for 20 years, trying to do it the right way and everything. But once they showed what they could do with it visually and sound-wise, I was just so amazed. I was doubly happy, I didn't even know they could do that."
When was the last time you actually watched Multiple Maniacs? Do you ever watch your own films?
"I don't, but I had a giant retrospective at Lincoln Center in New York and another big one at the BFI in London a couple of years ago. I think Criterion came to watch at Lincoln Center and the Film Society showed the lost 16mm print of Multiple Maniacs, which practically burned up in the projector. It was kind of like a funeral, because I thought: 'Well, there'll probably never be another 16mm print of anything, right?'. But anyway they saw it that night and I think that's what gave them the idea to do it, so that was one of the few, few times it has ever been shown and that was only because it was part of this giant retrospective."
What do you make of that film when you look back on it now?
"Well, to me it's the most ludicrous thing that you can go on Rotten Tomatoes and it's 100% favourable reviews, when it came out they would be 100% negative. Even I have to laugh at some of them, the reviews are so great and I never got reviews like this for anything! But it's kind of hilarious when you watch it now, it's like being in a time capsule. I mean I look back on it now and it's even more shocking in a way because of the subject matter, the politically incorrect dialogue. So my reaction watching it today is like 'what the hell were you thinking about?' It's no wonder my parents were uptight about it."
Film critics aside, what was the public reaction to the film when it was first released?
"I knew when it came out it was going to be shocking, I mean we opened it in a church, if you can imagine, and I had three showings which I always did before I targeted distribution, Friday, Saturday and Sunday at 8:00, 10:00 and midnight. They were all sold out, the audience was hippies, punks, bikers, gay people, but all angry, crazy ones.
"So I knew it could work, and then I got distribution for it through this thing called Underground Cinema 12 that played once a week on Saturday nights at midnight, but it went on a tour around the country of the Art Theatre Guild, which mostly did porno, but this was was how they made themselves politically correct in a way, by showing art films at midnight. They paid a dollar a minute, so I got $90 a week and I remember it went to 10 cities, and it went twice on the tour, which was great because I could pay my father back the money he leant me. I mean I'm sure he prayed that I wouldn't pay him back, so I wouldn't ask him again. But I did pay him back, and I did ask him again, haha!"
Do you think it would be easier or harder these days to get a film like Multiple Maniacs into cinemas?
"I think it would probably be easier to get a distribution deal for a film like this, I think they're all looking for the next weirdo film that some kid made on his cellphone, which is basically what we did, except we didn't have cellphones. The difference is that it would open at, I don't know, an art chain maybe for one week, you'd try to get it to Sundance and through the festival circuit, it might get picked up and get some buzz. Then maybe it would open, not at midnight, but in an extreme arthouse cinema with maybe three or four of them around the country, that's what would happen today."

"It would be easier today to get that film shown than it was then, because back then it didn't fit in to anything, punk hadn't happened yet and it kind of was a punk movie before anybody knew what punk was. I didn't know it at the time, nobody did, but in hindsight you look back and all the people that were in that audience I talked about eventually embraced the punk movement. It did OK on the midnight circuit, it did have an audience, but it never played in New York until after Pink Flamingos came out and even then it only played a couple of times, it never had anything like the attention that it's gotten more recently, never anywhere near it."
What sort of films or people were you looking to for inspiration when you were making those early films? There can't have been too many people doing the kind of thing that you were doing at the time...
"Well, if you look at the posters on the wall at Divine's house in Multiple Maniacs, that was actually my apartment, that was exactly my living room. So you can see all the posters on the wall of films by Roman Polanski, Ingmar Bergman, but then also I, A Woman Part II. I used to go see Bergman movies on acid with Divine, ha! I don't think too many people have watched Bergman on acid, and Divine hated them, he always wanted to see Elizabeth Taylor movies or something.
"I went to the drive-in all the time and saw gore movies and all that kind of stuff, but then we went to see all the foreign films like Bergman's because they had nudity and vomiting and subject mater that nobody had dared to do before. And then underground movies, Warhol movies and the Kuchar brothers especially, so I tried to put all those influences together and I always thought of it as trying to make exploitation films for art theatres, which I think I did do in the long run."
Divine is clearly the star of the show in this film and has starred in a number of your other films too, how did you two meet?
"Divine and his family moved into my street, I always used to joke that he was the girl next door but he wasn't exactly next door, he was about six houses away. I was probably a senior in high school and so was he, but we didn't go to the same school. He was the only child of parents that ran a children's nursery school, so he wasn't the best advertisement for it. But people always have the wrong impression about what Divine was like, he was an overweight, feminine kid that got beat up every day in school, was going to be a hairdresser, never went out of his house until he was 16. He had to do his mother's hair every night, I always say he suffered hairdo abuse.
"But he used that anger and fear that built up to create this character, he never was transsexual in any way, he never walked around dressed as a woman, he never wanted to be a woman. I always said he wanted to be a monster, and in Multiple Maniacs he became one in the end, he became Godzilla."
What's the biggest thing that has changed about the way you approach making a film now compared to back then?
"Everything is different. I don't tell the actors to scream and overreact, which I certainly did then. I mean take Mink [Stole], who in Serial Mom gives this beautifully natural and funny performance, in this movie she's yelling and screaming and being crazy. I think the real reason was that we never had synced sound before and we were using really bad sound equipment, I just wanted to make sure people could hear the dialogue. And I should be in zoom lens prison for that movie, I had never really had one before and I was using it on every shot!
"I mean it was just me and this crazy teamster guy that borrowed the equipment from a TV station and rented it to us, I don't really know how legal that was. I think back now about that guy, I tried to find him. He was there all night doing 20-hour days with us, he was really lovely, I can't imagine that he wasn't horrified by the movie but he didn't seem to be, I don't know. I wanted to find him to just ask him 'what were you thinking?' I don't know what any of us were thinking, but it was funny to us at the time."
So what are you working on at the moment?
"Well, I'm writing a book called called Mr. Know-It-All, I have a two book deal with my publisher and have another coming out in a month called Make Trouble, which is an illustrated book about the commencement speech that I gave at RISD (Rhode Island School of Design). I'm working on so many projects, I do my spoken word show, I just did a Christmas tour of 18 cities in 21 days. I have a job until the day I die, no matter how long I live."
In terms of films though, are you planning to make any more?
"Well I had four development deals that didn't happen, one was for a sequel to Hairspray. They paid me good money, Hollywood money, but none of them ever happened. Hey, Hollywood has been fair to me, but the independent film world that I knew is no longer, there's no such thing. I mean I could make all these movies if I wanted to do them for a million dollars, but at 70 years old I really don't want to be an underground filmmaker any more. I can't afford to be, I have five employees."
Multiple Maniacs is available on Blu-ray as part of the Criterion Collection, you can find it here in our online store...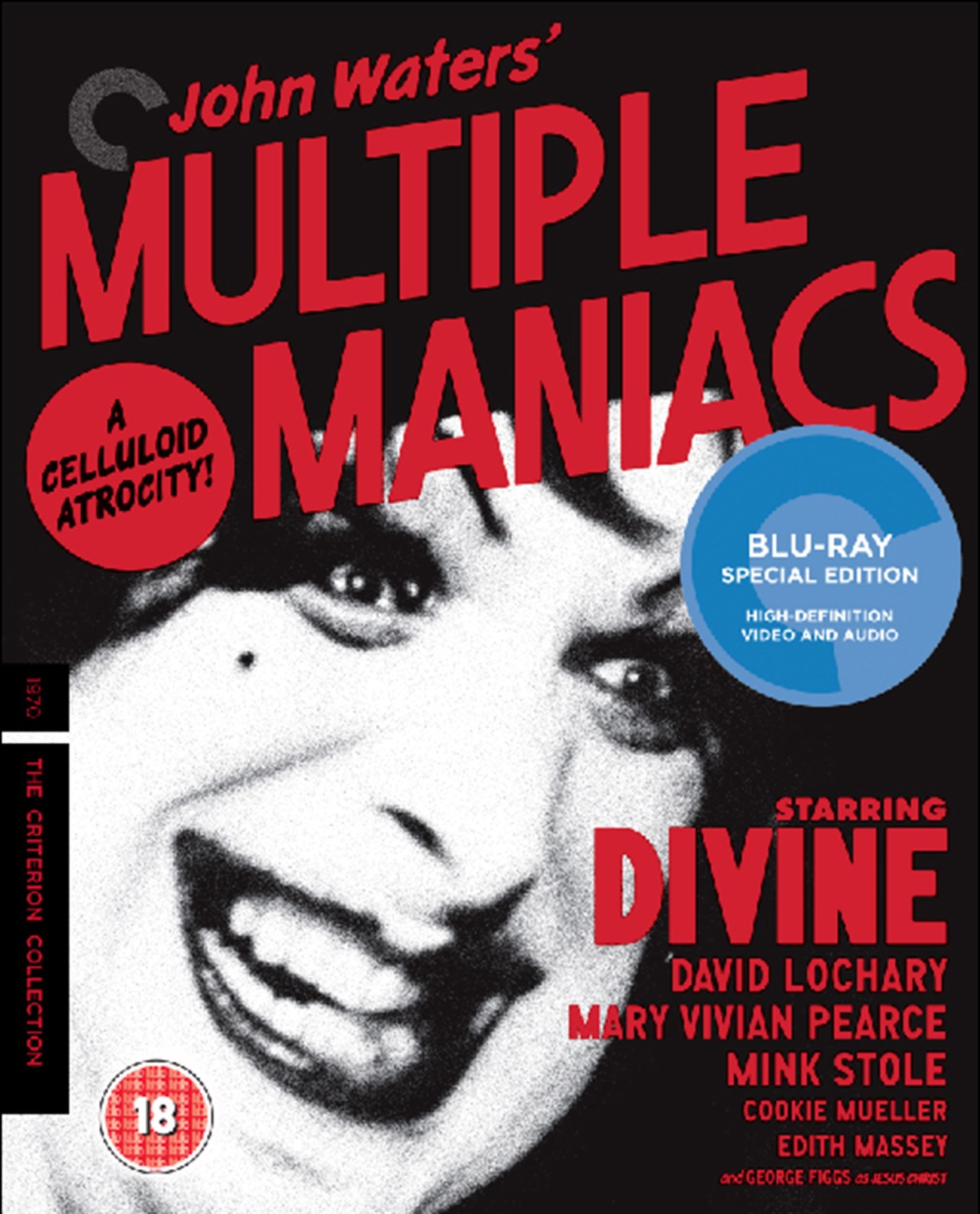 Multiple Maniacs - The Criterion Collection