The Water Diviner: What You Need To Know
Russell Crowe's acting career has seen him tackling a variety of roles including a neo-nazi thug (Romper Stomper), a famous outlaw (Robin Hood), an unlikely boxing champion (Cinderella Man) and a biblical saviour (Noah), even earning an Academy Award for his career-defining turn as troubled mathematician John Nash in Ron Howard's 2001 biopic A Beautiful Mind. On top of that, he's fronted a band named Thirty Odd Foot of Grunts and released an album with Great Big Sea's Alan Doyle.
Now he's completed his first stint as a director with WWI drama The Water Diviner, which arrives in stores on Monday (August 10th). So what can we expect from the Australian actor's directorial debut? Here's everything you need to know...
Who's in it?
Crowe showed no hesitation in casting himself In the lead role, but the supporting cast isn't particularly star-studded. Divergent's Jai Courtney is one of the more recognisable faces, while there are also roles for Olga Kurylenko, Yilmaz Erdogan and Isabel Lucas. Australian actress Jacqueline McKenzie also appears as the wife of Crowe's character, marking the first time the pair have appeared in a film together since 1992's Romper Stomper.
What's the plot?
The film begins in 1919 shortly after the end of the first world war where Joshua Connor (Crowe), an Australian farmer with a knack for the art of water divination, is trying to come to terms with the disappearance of all three of his sons in the Battle of Gallipoli, all of whom are missing presumed dead. Joshua has located ground water on his land and distracting himself from the emotional turmoil by digging a well, but his wife Eliza isn't coping so well and ends up taking her own life. Joshua resolves to travel to Turkey and visit the site of the battle, with the aim of locating his sons' bodies and bringing them home to be buried alongside their mother.
On his arrival in Istanbul he finds a hotel run by the war-widowed Ayshe (Kurylenko) and makes enquiries to the British consul about visiting the battle site, but is told in no uncertain terms that the site is off limits for civilians. After learning why he is in the country, Ayshe offers Joshua some help by suggesting he could bribe a local fisherman to take him to the site by boat.
Arriving in Gallipoli, Joshua finds the surviving Australian and New Zealand troops overseeing the mass burial of the victims and manages to persuade one of the army captains to help him locate the bodies of his sons, but he soon learns that one of them may not be dead after all and is likely to have been transported to a prisoner camp.
When he returns to the hotel he learns from one of the Turkish soldiers that the Greek army has invaded and, since the British are refusing to intervene, they are heading towards the border to defend their turf. Upon learning that they will be passing through the area where the prisoner camp is located, he tags along hoping to locate his son, but he soon finds himself under attack from Greek forces and pursued by the British consul, who want him deported for ignoring their instruction not to visit the battle site.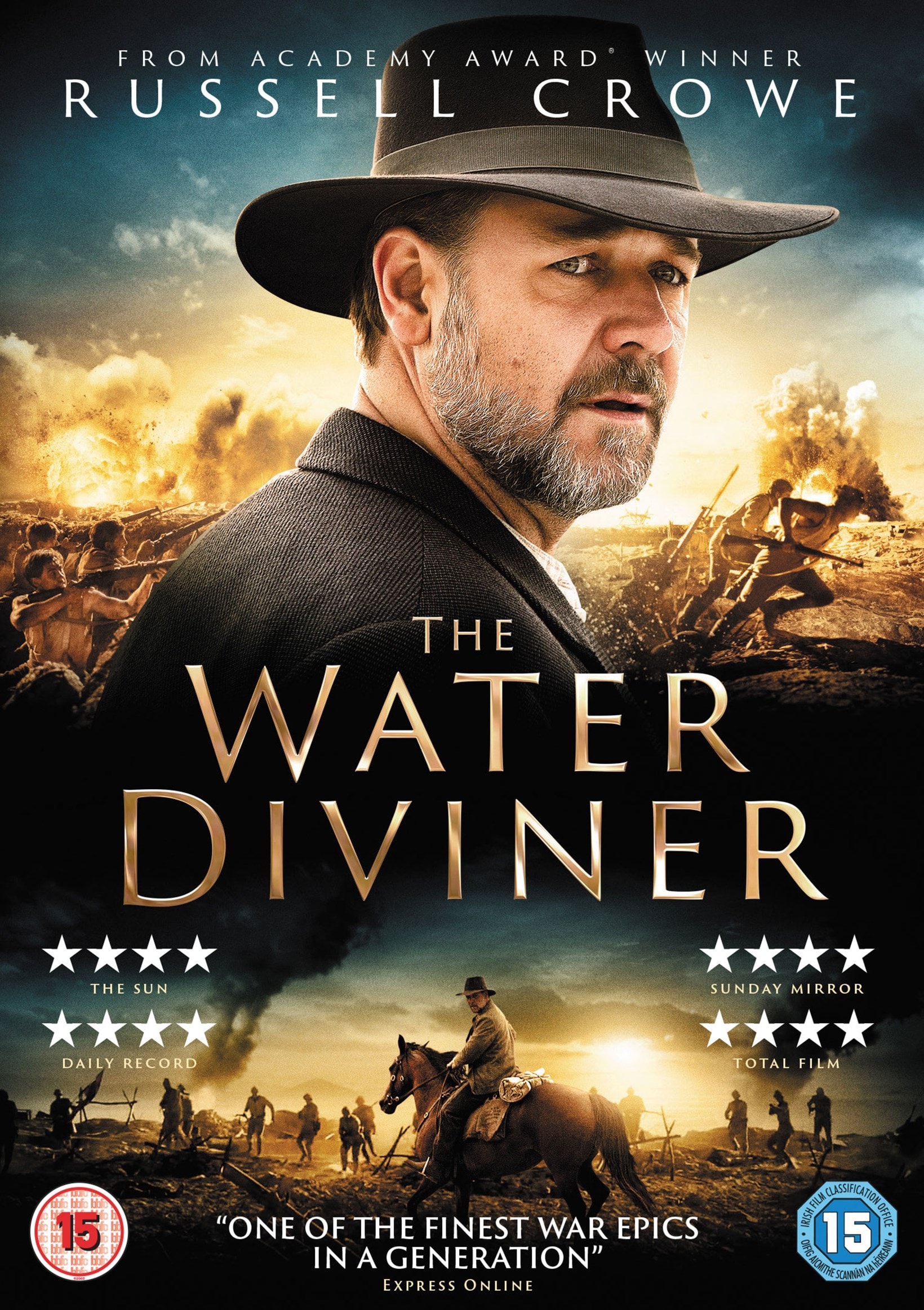 Does it deliver?
Crowe's debut stint in the director's chair has produced a film that was well received in his native Australia, becoming the country's highest grossing homegrown film in 2014, as well as picking up several AACTA Awards, including sharing the honours for 'Best Film' with Jennifer Kent's breakout horror film The Babadook.
Outside of Australia though the film's reception has been a little more tepid and the film has been the subject of some criticism for omitting any mention of the Armenian massacre that occurred both during and after the Gallipoli battle at the hands of the Ottoman government.
That said, The Water Diviner is intended more as a story of personal loss and remembrance than an in-depth historical account of the battle and its consequences, instead approaching the subject of the heavy losses suffered by the Australians in the battle on a more individual human scale.
If you can look past some the sketchiness in historical accuracy though, there are some good performances delivered by the cast, not least by Crowe, and even though he may polarise opinion for some this is a decent directorial debut. You just can't help but wonder though, given his knack for attracting controversy, if he might be better off tackling something a little less weighty on the next time out.
The Water Diviner is released on DVD and Blu-Ray on Monday (August 10th). Click here to pre-order it from our online store. 
The Water Diviner - Official Trailer